DETAIL
◆ Farewell Accommodation Special benefit available ◆ 3, April limited "Luxurious !! All seashell pork course of North Sea 3 pcs" 3,500 yen (tax included)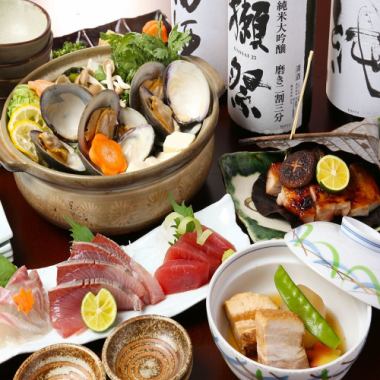 By using a coupon3500 yen
All-you-can-drink available

Over 20 types of Japanese sake !! Over 100 kinds of beer, shochu etc. Over 100 types! As self-style so you like what you like ♪ All you can drink premium all-you-can-drink ♪
Reservation deadline

Visit of hope the day before until 23:00
※ The content may change due to purchasing business condition.Starting rental for up to 30 people, you can make a reservation from a minimum of 2 people.※ You can order free drink for 120 minutes at 1,500 yen separately.
Course menu
【Appetizer】 Assortment of liquor of 2 varieties
【Cold dishes】 Onion salad with sweet shrimp and new onion
【Fresh fish】 Seasonal Build Big Assortment
【Main dish】 Luxurious! Seafood shopping pot of Beihai Sansei together with carefully selected vegetables and seasonal seafood ~
【Superb item】 Grilled sauce of Saba sauce
【Calcined goods】 Broiled with thick pork and seasoned meat
【Fried】 Large Oyster Fry ~ Homemade Tartar ~
【Delivery Goods】 Sushi noodles stained with seafood delicious dish
☆ Farewell reception award ☆
We will prepare "2nd generation Akira specially made mirror opening" as a special benefit of farewell reception for the customer who wishes.
We will help special production by expressing gratitude to "How to send" "How to greet" "Honorable guest" ♪
Please tell us at the time of reservation ♪
【2 types of optional drinks you can choose】
※ All you can drink for 120 minutes at all over 100 species including draft beer (Asahi Super Dry) containing more than 20 kinds of sake at +1, 500 yen
※ + 2,500 yen and the premium sake 5 kinds will be added to the above 120 minutes premium all-you-can-drink
※ If you wish to change the contents of the course, if you have any request, please do not hesitate to tell us.
Reservations required by the day before ※.
※ Please consult us if you have allergies, poor foods.
* Please understand beforehand that it may be asked for a two-hour system depending on the reservation situation etc.
All-you-can-drink menu
· Japanese species
-
·beer
Asahi Super Dry
Shochu
· Black Kirishima (potato) · Nobiruka (wheat) · Tall altitude (shiso) · Kume 仙 (awamori) · Ren (brown sugar)
·Highball
· Black Nikka High Bow · Cork High Ball · Ginger High Ball
· Sake High
· Lemon Shochu High · Grapefruit Shochu · Lime · Shochu · Calpis Shochu · Huge Peak Shochu · High Blue Apple Shochu High · Oolong High · Green Tea High
·Fruit wine
· Plum plum wine · grandmother's plum wine · yuzu · grapefruit sake
·house wine
· Saint Vincent Rouge (Red) · Saint Vincent Blanc (White)
·Cocktail
· Cassis Orange · Cassis Soda · Cassis Oolong · Fuzzy Neeble · Peach Oolong · Peach Fizz · Gin Tonic · Gin Back · Moscow Commu · Vodka Tonic etc.
- Non-alcoholic cocktail
· Non alcoholic cassis · Non alcoholic peach
·Soft drink
· Cola · Gingerja · Orange juice · Calpis soda · Calipis water · Oolong tea

Coupon that can be used
【All you can drink】 Drink offer offer to those who do not like self

Presentation conditions

Please make a reservation at the time of reservation at the time of reservation

Conditions of use

No other tickets / services can be used together, reservation required, course only

Expiration date

Until the end of March 2018
2018/03/14 update