DETAIL
◆ Banquet ◆ "Luxurious !! All seashell pork cooker course in the North Sea" 3,500 yen (tax included)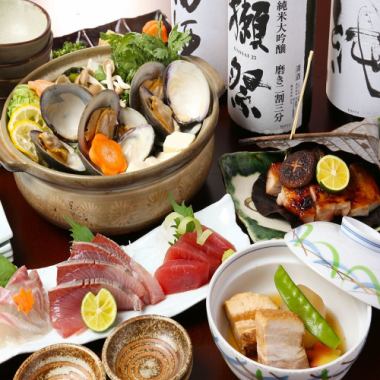 By using a coupon3500 yen
All-you-can-drink available

Over 20 types of Japanese sake !! Over 100 kinds of beer, shochu etc. Over 100 types! As self-style so you like what you like ♪ All you can drink premium all-you-can-drink ♪
Reservation deadline

Visit of hope the day before until 23:00
※ The content may change due to purchasing business condition.Starting rental for up to 30 people, you can make a reservation from a minimum of 2 people.※ You can order free drink for 120 minutes at 1,500 yen separately.
Course menu
【Appetizer】 Assortment of liquor of 2 varieties
[Cold vegetables] Caesar salad with seasonal vegetables and seafood
【Fresh fish】 Seasonal Build Big Assortment
【Main dish】 Luxurious! Seafood shopping pot of Beihai Sansei together with carefully selected vegetables and seasonal seafood ~
【Gem】 Rolled-up soup roll rolled egg
【Calcined goods】 Broiled with thick pork and seasoned meat
【Fried】 Fry fried seasonal fish
【Delivery Goods】 Sushi noodles stained with seafood delicious dish
☆ Private Charges ☆
Reservation for more than 20 people, "Festival 50 pure rice big daiginjo" in 1 visit ♪
☆ Farewell reception award ☆
For customers who wish, we will prepare "Second Generation Light Tempered Kirakiri Kiraku".
We will help special production by expressing gratitude to "How to send" "How to greet" "Honorable guest" ♪
Please tell us at the time of reservation ♪
【2 types of optional drinks you can choose】
※ All you can drink for 120 minutes at all over 100 species including draft beer (Asahi Super Dry) containing more than 20 kinds of sake at +1, 500 yen
※ + 2,500 yen and the premium sake 5 kinds will be added to the above 120 minutes premium all-you-can-drink
※ If you wish to change the contents of the course, if you have any request please do not hesitate to tell us.
Reservations required by the day before ※.
※ Please consult us if you have allergies, poor foods.
* Please understand beforehand that it may be asked for a two-hour system depending on the reservation situation etc.
All-you-can-drink menu
· Japanese species
·beer
Asahi Super Dry
Shochu
· Black Kirishima (potato) · Nobiruka (wheat) · Tall altitude (shiso) · Kume 仙 (awamori) · Ren (brown sugar)
·Highball
· Black Nikka High Bow · Cork High Ball · Ginger High Ball
· Sake High
· Lemon Shochu High · Grapefruit Shochu · Lime · Shochu · Calpis Shochu · Huge Peak Shochu · High Blue Apple Shochu High · Oolong High · Green Tea High
·Fruit wine
· Plum plum wine · grandmother's plum wine · yuzu · grapefruit sake
·house wine
· Saint Vincent Rouge (Red) · Saint Vincent Blanc (White)
·Cocktail
· Cassis Orange · Cassis Soda · Cassis Oolong · Fuzzy Neeble · Peach Oolong · Peach Fizz · Gin Tonic · Gin Back · Moscow Commu · Vodka Tonic etc.
- Non-alcoholic cocktail
· Non alcoholic cassis · Non alcoholic peach
·Soft drink
· Coke · Gingerja · Orange juice · Calpis soda · Calipis water · oolong tea
Coupon that can be used
【All you can drink】 Drink offer offer to those who do not like self

Presentation conditions

Please make a reservation at the time of reservation at the time of reservation

Conditions of use

No other tickets / services can be used together, reservation required, course only

Expiration date

Until the end of June, 2018
2018/04/27 update